Discover more from North Carolina Rabbit Hole
Get lost in the strange minutiae of the best state in the country.
Over 7,000 subscribers
A bear took a vacation to the Outer Banks. Fake pictures of it were more popular than real ones.
A handful of people saw a bear walking around Nags Head. Thousands of people saw the pictures. They were almost too good to be true, because they WERE too good to be true.
Folks, I got got.
Last week, I shared some pictures of a black bear playing in the surf on the Outer Banks. Almost immediately, many of you tagged me, saying that the pictures were fakes. I was not alone in sharing them, though. The images were liked and reposted thousands of times. And it turns out, there really was a bear walking around out there! So what's going on here? Who did this? And why? How did so many people fall for them? Why did I, a Reasonably Smart Person Who Knows Many Things About North Carolina, bite on this too?
Let's start at the beginning. On June 8th, a woman on Facebook posted a picture and video from the causeway between Manteo and Nags Head, showing a bear swimming to shore in the shallow water. You can hear two women gasping as they realize what they're seeing, before one of them boldly states "I am not kayaking in the sound."
That evening, the Virginian-Pilot wrote up a story about it, stating that the same bear had also been seen in the Landing and Wright Woods subdivisions in Kill Devil Hills, along with Southern Shores and Kitty Hawk. A state wildlife officer said that bear isn't a permanent resident on the barrier islands, and that bears have swam across the sound from the mainland before. A day later, some incredible pictures of the bear frolicking in the surf went viral, mostly on Facebook. Originally, people seemed to have one, big question: What the hell is a bear doing in the Outer Banks?
A Coastal Bear Jamboree
You may not realize this, but Eastern North Carolina is full of big, fat bears. For example: nearby Tyrrell County's population is tiny (3,245), making it the least populated county in North Carolina for humans. But! It's among the most populous for black bears. Those animals are also larger near the coast than in the mountains, mostly because the growing season is longer and the bears love to eat whatever farmers have planted in their fields. Back in 1998, a hunter in Craven County took down an 880 pound black bear, which was estimated to be the largest one ever killed. For what it's worth, the hunting of black bears is highly restricted, but those restrictions have been loosened in recent years. The reason: The black bear population has rebounded over the last few decades. In the early 1970s, there were only around 1,000 left in the entire state. Today, that number is closer to 15,000, and the state wants to slow that's number's growth. Still though, "the successful comeback of the American black bear in North Carolina represents one of wildlife management's greatest achievements," states the N.C. Wildlife Commission.
I'm not bragging here, but I knew all of this before now. I've written about Eastern North Carolina's black bears for Our State. And years ago, I did some on-site research for a story about the Bear Lady. Her real name was Kay Grayson, and she moved to Tyrrell County to help clear land for a housing development that never materialized. But rather than go home, she befriended the bears, lived among them in the woods, and protected them from hunters until her death in 2015. I never wrote that story because Brandon Sneed got there before I did, and it's worth reading his Outside magazine story about her in full.
A Kernel of Truth to Amplify A Fake
Anyhow, if you know all of this, you also know that seeing a bear on the Outer Banks is unusual, but not out of the question. Which brings us to a Facebook page called OBX Life. It's been around since 2019 and currently has 66,000 followers. Mostly, it posts images from the Outer Banks, a place that can serve as a backdrop for some incredible real photography (Daniel Pullen's image of the ocean lapping at the legs of a pool table in Avon was one of Time magazine's top 100 pictures of the year in 2020).
Many of the pictures on OBX Life look too good to be true. That's because they are.
A bunch of them are blatant fakes, like this image of a cow eating ice cream in the sand, or this one of a jetliner dropping sunscreen on tourists along the beach. But a lot of them are pretty convincing, like this image of wild horses hanging out with a gigantic sea turtle. There are also stunning images of sunrises and night skies.
The page itself doesn't state that its images are manipulated. Although many of the people leaving reviews happily point that out.
Which brings us to this particular incident with the bear. On June 9th, at 10:18 a.m., the page re-shared the original (and real) video and image of the bear swimming near the causeway. Two hours later, it posted four pictures of a black bear on the beach, geotagged to Nags Head. The pictures also went up on Instagram: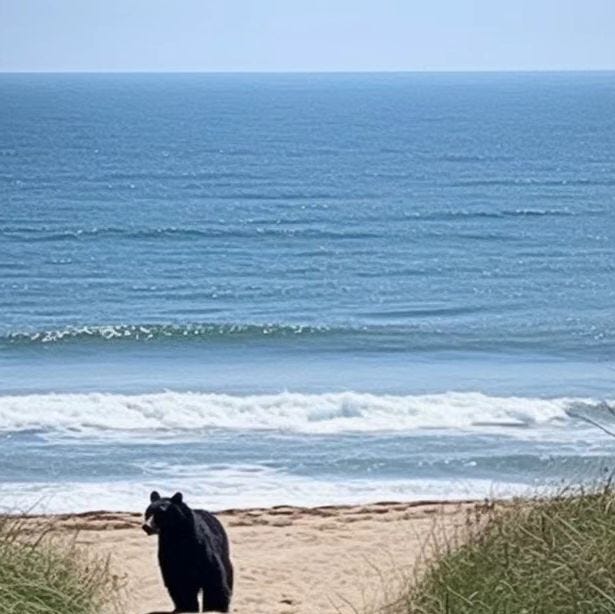 The originals look, well, real. Sure, you can squint real hard and try to find the bear tracks, but you could be forgiven for thinking these were legit.
Then, things escalate. The next shots, posted two days later, show the bear playing in the surf. Those were the ones that I tweeted out. They even come with a photo credit: "W. Spider."
After that, things get whimsical. "June 12th The bear was caught and safely released at Alligator river national wildlife refuge" is the caption on a series of photos that show a gigantic bear being run down and captured by some sort of law enforcement officers: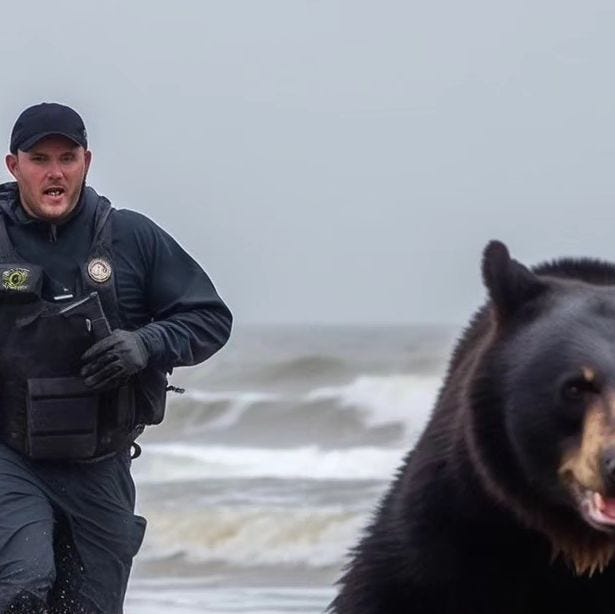 There's nothing there to say that these particular images are fake. The faces are real. The beach is real. The bear seems convincingly out of focus. But there's no actual identification on the uniforms. And, if this picture was legit, it would be one of the most incredible pictures I've ever seen.
Followup pictures show the bear sitting on top of the Cape Hatteras National Wildlife Refuge sign. Another one depicts the bear fishing. Okay. I think we're done here.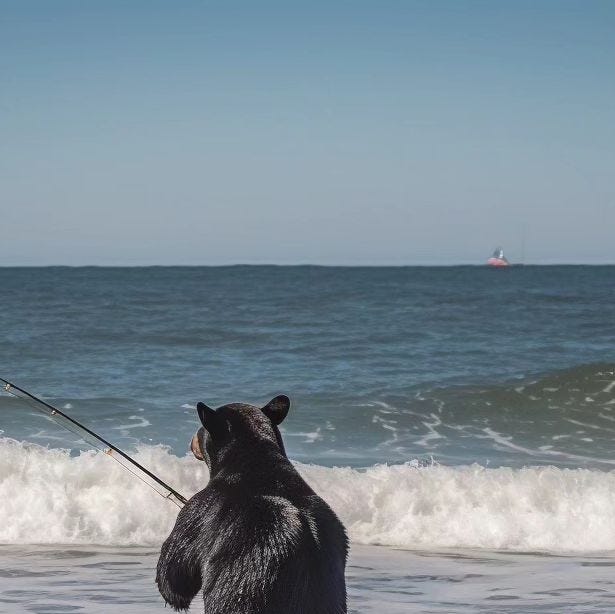 For what it's worth, the U.S. Fish and Wildlife Service posted a note on Facebook, saying that the bear was real, but the images of it on the beach were not. That post was only shared a handful of times.
This guy is really good with AI and Photoshop
This isn't the first time this particular page has been flagged. Back in March, OBX Life posted some incredible images of a great white shark that had beached itself. A lot of people freaked out. So many, actually, that the Associated Press wrote a story about the pictures, authoritatively calling them fakes. For one thing, there had been no reports of any sharks beaching themselves. For another, nobody else posted about this on social media (other than amplifying the original images, or just ripping them off without attribution). The AP even talked to a damn SHARK EXPERT and stated that "a real shark of this size, for instance, would likely be much more banged up if it ended up on land." The original post on Facebook now has a misinformation warning attached to it.
The page's owner didn't respond to the AP in March, but the Virginian-Pilot tracked down the guy behind the account back in 2018. He goes by Alex Lex, although his last name is Kagul. He moved to the Outer Banks from Moldova in the mid 2010s, and worked as a roofer and DJ before giving Photoshop a try as a hobby. He got good, quickly. His pictures were a mix between whimsical (Vladimir Putin riding a horse in Carova) to very realistic (a huge wave hitting Jennette's Pier). From the Virginian-Pilot:
Lex knows there are people who don't like his work because it's not real. He calls them haters and recently posted that he needed more of them because the ones he once had have now turned into fans.

"Everybody should know they are for fun," he said.
Not everyone sees it that way. In 2015, a photographer on Cape Cod who took a picture of, you guessed it, a beached great white shark threatened to sue Lex after he photoshopped onto a beach in the Outer Banks. Lex took down his version, but didn't see what the big deal was. "People take too serious," he said.
Lex's original Facebook page is gone, but his new one links to an Etsy account that sells printable images that resemble the ones from OBX Life. An extremely close-up picture of swimming horses seems to be the most popular seller. "I use several programs to achieve the desired results," it says.
Let me broaden out here for a moment. Artificial intelligence is getting better and better by the week, it seems. Midjourney, for one, can create images that seem incredibly real, and they're only going to get more real. We may be fast approaching a tipping point where authentic and fake images are impossible to tell apart for almost everybody.
In this case, people quickly told me that the bear images weren't real. They knew about OBX Life, which already had a reputation for posting fake images. Before that, though, I thought I'd done my homework. I'd come across the original Facebook video. I'd read the latest Virginian-Pilot story about the real bear. I knew that the reports of sightings in Nags Head were legit. And I got fooled anyway.
A lot of people don't seem to know that Lex's latest bear pictures are fake. By far, the most popular comments on his Facebook pictures seem to be some version of "Wow!" or "great picture!" or "I LOVE THIS." Many others are just people tagging friends. Some people are thanking the law enforcement officers for catching the bear. A few people noticed that the captured bear seems to be bigger than the one that was spotted earlier this week. A few people seem to know it's fake, but not many people stated that overtly. It's hard to know how many people really thought this was real. Most people don't have time to fact-check everything they see on the internet. They like what they like. And then they share it.
I sent a private message to OBX Life, and didn't hear back for several days. Finally, I got reply from Lex last night, who said he was too busy for a longer interview. As for the bear pictures, he did have time for a quick response: "Photoshop + ai = cool photos."